Children's Boutique Clothing & Accessories
At SadieMack Children's Boutique LLC, we take pride in the kids boutique outfits and accessories we offer. Whether you are looking for boutique clothing for boys or girls, we carry a wide selection of affordable options that your children will love. We even carry boutique children's holiday outfits! Browse our catalog of boutique hair bows, baby clothes, and more or chat with us today if you have any questions.
Our Story
Dressing little ones can get expensive. After having 4 kids, my wallet was exhausted trying to keep up with their ever growing bodies. That's when the idea of SadieMack arrived. I wanted to provide unique & beautiful boutique clothing without the not so beautiful price. After lots of hard work, we are proud to bring you, SadieMack Children's Boutique. We do hope you enjoy!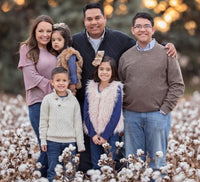 Our Store
3952 E. 42nd. St, Suite B
Odessa, TX 79762
Tues - Fri, 11m - 6pm
Saturday, 11am - 4pm
Sun - Mon Closed